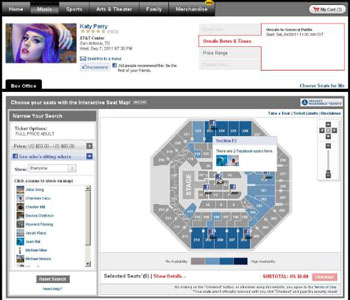 Say goodbye to frantic event organizing and mass-concert ticket purchasing (how many times have you wound up being the one to buy five tickets so everyone could sit together?).
Ticketmaster and Live Nation have introduced interactive event seat maps
directly integrated with Facebook.
When selecting a ticket to the upcoming Kanye West and Jay-Z concert, view where friends have already snagged seats and opt to purchase available seats in the same section. Or, buy tickets in a completely different section if that's your game. Show friends or all-event attendees where you're sitting by tagging your seat via Facebook once the ticket purchase is complete. Over 9,000 interactive seating maps are available on Ticketmaster and Live Nation's websites, upping the chance of your local venue using the social service.