The Get a Mac ads have been laid to rest, but Justin Long isn't ducking out of the spotlight just yet. He sat down with Jimmy Kimmel last night to promote his new movie Going the Distance, in which he costars with ex-girlfriend Drew Barrymore, and ended up talking in length about a texting mix-up he encountered with a stranger (something you guys are familiar with).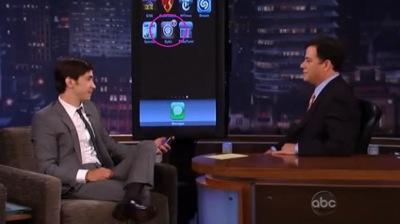 But things got really interesting when he closed his text app, clearly displaying the
Cydia application
, which is used to load apps on jailbroken iPhones. Sure,
jailbreaking is legal now
(and quite a few of you
are into it
), but is the Mac turning away from his roots by jailbreaking? Check out the entire clip of Justin on
Jimmy Kimmel Live!
after the break.