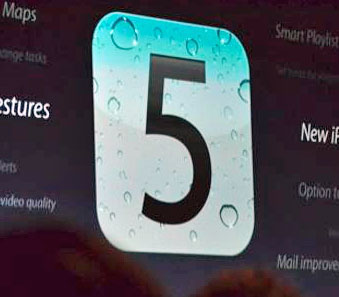 Along with OSX Lion, Apple detailed some of the new additions coming along with iOS 5, which will be available for iPhone 3GS and 4, both iPad versions, and third and fourth generation iPod Touches this Fall. Over 200 new features are coming packed inside the latest updates, but Apple picked a few of the more exciting ones to showcase. Check out what's new below!
Better push notifications — With the new "Notification Center," you'll see your alerts and notifications in the top nav bar (just like Android). And you can see all current notifications with a swipe of your finger down (and without annoying popups).
Newsstand — Just like iBooks, you can download magazines and newspapers via Newsstand.
Twitter integration — Apple has not only added a single sign-on for Twitter, making it easier to sign in, but it's also integrated the microblogging service into many apps, so you can tweet what you're doing from the camera, stories you find in Safari, videos from YouTube, or Map locations. Twitter @replies or notifications will also show up in the new notification center at the top of the navigation bar.
Safari — Apple has open sourced Safari, allowing devs to create more reader-friendly websites (turning them from regular webpages into single, more PDF-like pages). It's also added a "Reading List" for stories you want to save for later (which syncs across browsers on iOS and OSX) and full-tabbed browsing.
Reminders — Instead of taking notes on your iPhone's notepad app or putting a reminder in your calendar, you can now use Reminders in iOS to create a digital to-do list right on your iPhone. The geo-location abilities will trigger surrounding events for you to choose from.
Learn more about other new features coming in iOS 5 (including the BBM for Apple users) after the break.