I've waxed poetic about keyboard shortcuts (for both my computer and for Gmail) but I know some of you may have a hard time remembering the commands. If you were born with a bad memory, or just get the commands you do remember mixed up with others, there is help. Help in the form of this iMac Apple Shortcuts Sticker ($24), which lives right on your iMac's (or Cinema Display's) stand.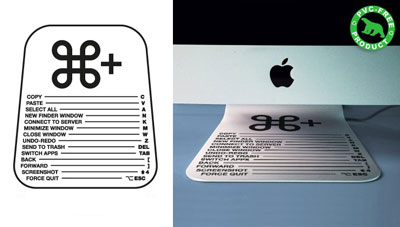 All the basic Mac commands are at your fingertips, so you can open Apple this, and open Apple that till your project is done. Kinda makes you want to
DIY
one of your own, doesn't it? You can buy printable sticker paper at your local office supply store
or online
, but if you're crafty, you can
attempt the homemade kind
.