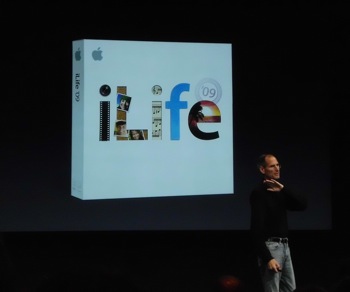 The first new product to be introduced at the Back to the Mac event is
iLife
. Coming with a bunch of new features, iLife is better than ever. Check out what's new in each application below.
iPhoto
New features include new full screen modes, Facebook enhancements, new slideshows, and new ways to email photos and print cards, including new custom letterpress cards (!) and postcards. Cool new maps let you see geo-tagged pics, and enhancements to the Faces feature recognizes faces even better. Additionally, you can customize books even further, add text, and move pics around with ease, then see all of your custom books in a bookshelf (just like in the iBookstore).
Hear about the rest of the iLife '11 features, including iMovie, Garageband, availability, and pricing after the jump.