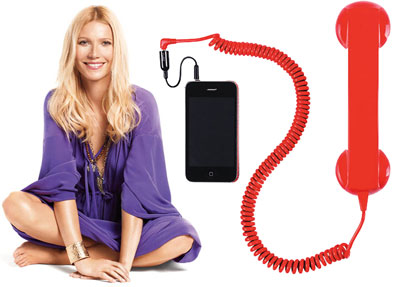 In the latest issue of
Elle Decor
,
Gwyneth Paltrow
talks about some of the
things she can't live without
. Though most of these items are
beautiful interior pieces
, she does mention one item we've seen other celebrities carrying around NYC: a retro cellphone handset attachment. Though we weren't sure if
Lenny Kravitz
was carrying one last month for health reasons or to make a fashion statement, Gwyneth is pretty clear on the matter. She says, "A handset cuts down on cellphone radiation. I use this one for my BlackBerry calls."
As a health nut, it's not surprising that she totes one of these around, but a BlackBerry? I would have taken her for more of an iPhone girl. Either way, Gwyneth's retro phone attachment of choice is a YUBZ ($50), which promises a 96-percent reduction in cell phone radiation exposure.