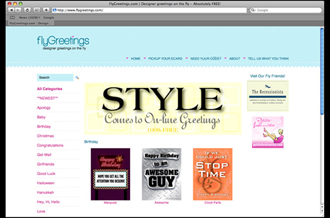 For cute, no-fuss ecards, you may want to head on over to
flyGreetings
— because where else can you find cards that say things like "Let's Get a Mani" or "You're Preggers, Congrats!"?!
With a tagline of "free does not have to be cheap or cheesy," flyGreetings cards are classy, so you don't have to worry about weird flash animation or corny songs playing when your friend sees the card. Totally geek chic in my opinion.
And for other cute ecards, be sure to check out all of the adorable Sugar Network ones on Pingg!
To learn how to post your favorite websites to our Website of the Day group, read more