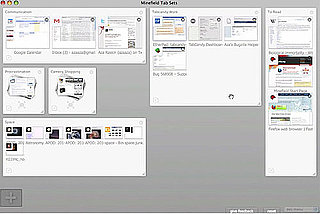 Good news,
Tab Candy
fans; Firefox is seriously considering
making the add-on a standard feature
in the final version of Firefox 4, due out this Fall. Apparently, the experiment was so popular that Mozilla decided to make it standard, changing its name to Tab Sets.
Tab Sets is a browser organization tool that allows users to group your tabs together by content category — a group of tabs for work, a group for casual reading, a group to signify a to-do list. Tab Sets is included in the latest Nightly Build of Firefox, which are new versions of the browser made for testing purposes only. For more details on the soon-to-come feature, check out the instructional video at the bottom of the original post.