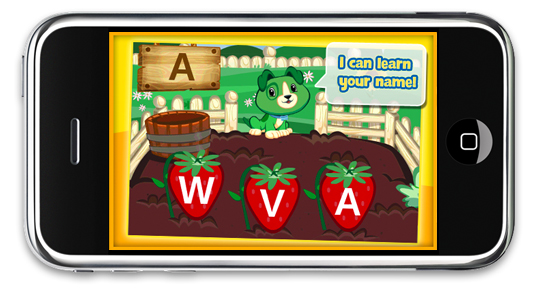 There are plenty of
tot-friendly apps
on the market claiming to be educational. And while some have research and educators backing it up, none have the power of the
LeapFrog
brand behind them – until now. With
Scout's ABC Garden
($4), which hits the iTunes store on Thursday, the company brings its most iconic plush characters to life in the palm of lil one's hands (or on their mama's iPhone, iPad, or iTouch).
Similar to the company's highly-praised Leapster and Explorer units, the new app features interactive exercises designed to teach lil ones about letters and sounds. Scout and Violet (players can choose which character to use) can be personalized (just like their plush counterparts) to say up to three children's names, their favorite colors, food, and animals. Tots can then explore Scout's garden, pop bubbles, sprinkle seeds, play a whac-a-mole-like game, and listen to kid-friendly songs while practicing their letter skills. Each activity is offered three times before moving on to the next, under the belief that kids must be exposed to something three times before they've mastered it.
Keep reading to see what I thought of the app experience and if it is worth downloading!