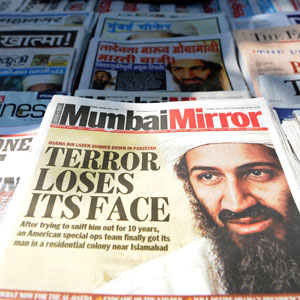 The excitement and curiosity over
the death of Osama bin Laden
hasn't just sparked a flurry of activity on the Internet — it's also become a feeding ground for hackers looking to steal your information. Just because something shows up in a Google search or gets past your spam folder doesn't mean it's legit — hackers prey on unsuspecting victims during news events by hiding malicious links and viruses in common-looking web pages. They may even send out phishing emails, teasing leaked or exclusive photos in order to get you to hand over credit card info, download a virus, or even gain access to home networks. How can you protect yourself against a cyberattack? Check out my tips below!
Beware of unknown links: Just because something shows up in your inbox or on your Facebook wall doesn't mean it's not spam. If you don't know where the link came from (or it looks suspicious), don't click!
Don't give out usernames or passwords: If you've been asked to enter your username and password anywhere else than a legit online account you already frequent, back away slowly.
Check out the rest of my tips after the jump.