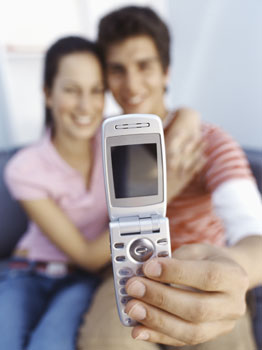 Amore is in the air, and if you plan on spending Feb. 14 with your current flame, you'll of course want to capture all the best moments as they happen. The good news is, with camera phones being as handy (and powerful) as they are, you probably don't need to tote around a full-featured digital in order to post an album's worth of mushy kissy-face pics on your various social networks.
Keep up your high photo standards no matter what the situation with these camera phone tips straight from professional photographer Perry Reichanadter. Have any of your own to add? Leave them in the comments or on our Facebook page!
Get close to your subject — Your camera phone probably won't have a macro setting, so be sure to get up close and personal with your beloved so he isn't drowned out by the surrounding action.
Clear the background — There's nothing worse than snapping a great pic of your BF, only to have something in the background distracting from his face. Make sure you steer clear of any street signs, bright lights, or "loud" objects, and keep your honey in focus.
See the rest of the tips after the jump.