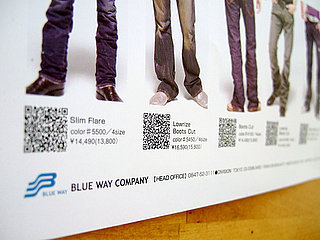 I recently went on a trip to Japan and saw QR codes — which are similar to bar codes — everywhere. The difference between these codes and the barcodes you see on any product in a store is that QR codes can hold a lot more information. Companies from advertisers to magazine publishers use them to point you to websites, extra content, and special discounts, and in Japan those scannable boxes were everywhere: ads on the street, ads on TV, in the subway, in magazines. Back in the States, I've started noticing them here and there, but they are nowhere near as pervasive as they are across the Pacific.
But we may be seeing them more and more. If you are a reality TV fan, you'll recognize Bluefly's new "Closet Confessions" ad campaign airing on Bravo, where style-obsessed celebrities (like Nicky Hilton and Johnny Weir) dish about their favorite finds. Have you noticed any QR codes in the Bethenny Frankel spot? There's one that shows up on the bottom half of the screen while the ad plays. Scanning it with your phone takes you to a webpage with discounts; currently $30 off a purchase of $150 or more.
Want to know how to get your phone to read QR codes? Learn more after the break.