Not too long ago I told you about a site called Top of the Tubes that pulled the most popular videos across the web and pooled them into one spot.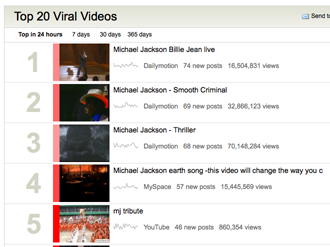 Well if you love viral videos as much as me, then you'll appreciate another site called
Viral Video Chart
, which shows you the top 20 most-watched videos floating around the Internet.
It even organizes the videos into various categories, so if you just want to watch popular videos about animals or celebrities, you can do that, too.
To learn how to post your favorite websites to our Website of the Day group, read more