One of my favorite parts of social networking technology is the way it can reflect to other events — especially events involving millions of people. Last year's MTV VMAs saw a Twitter explosion early on as Taylor Swift's acceptance speech was famously interrupted by Kanye West.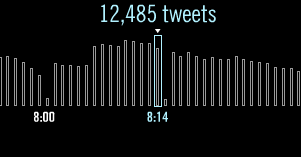 This year's MTV VMAs were no exception, but a new Twitter Tracker on the MTV site kept viewers informed of current Twitter trends and major traffic spikes.
A few highlights from last night's event, as documented by Twitter:


300,000 VMA tweets were posted before show even started.
One of the most popular hashtags of the evening? The Twitter-promoted #IfBieberMetGaga tag.
Check out the rest of the list after the break.