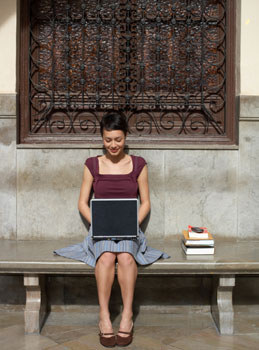 If your laptop is still in working order, you probably don't need to spring for that brand-new MacBook Air this season before you head back to class. Nonetheless, the start of a new school year (or just Fall in general) is a good time to spruce up your trusty laptop and get it ready for the long nights of studying ahead. Here, a few tips on how to get your machine in tip-top shape before the first bell rings, and how to care for a brand new investment so it serves you well for the next four years.
Clean it Up
Giving your laptop (or desktop) a thorough cleaning is essential to extending its life. Back up any data you may already have stored (on an external hard drive or portable flash drive), organize your desktop icons, empty your computer's trash on a regular basis, and clear out any programs you don't use. This will help free up space and keep you on the fast track to productivity.
Practice proper shut-down habits
Shutting down all open programs, and putting your laptop to sleep instead of just closing the lid will help your computer stay cool and safe while in transport.
Protect your investment
If you're going to be lugging a laptop around campus, make sure it's protected in a padded case!
See the rest of my tips after the jump.