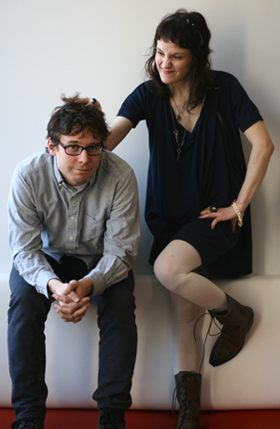 It's almost
Valentine's Day
and our
Geeks We Love
series is going strong! Next up: Thomas Houston and Leila Brillson, Editor-in-Chief and Managing Editor (respectively) of
Switched
, a blog covering technology and its relation to all of our other favorite things — fashion, art, and gadgets. Here's what they have to say about their favorite gadgets, their plans for Valentine's Day, and the blog they're thinking of starting together one day (we think it's a great idea, too!).
We know you from Switched — are there any other projects you're working on now?
LB: I also write for InterviewMagazine, so I am gearing up for some Fashion Week coverage. When I'm not at Switched, I'm an editor for Rundown, which is this awesome NY-oriented men's site that kind of covers happenings in the city. Lastly, but certainly not leastly, I have my own often-neglected blog, Battledroid, which is kind of a fusion of geekery and fashion, my two favorite things.
TH: Switched has kept me extremely busy lately, but I've got some new blog ideas for 2010.
LB: Thomas has been threatening to get us to start a site that's a cross between FU Penguin and the Sartorialist for New York City pets. I think its a grand idea.
Do you think technology is becoming too much of a distraction in our daily lives? Alternatively, how do you use tech to your advantage?
LB: I think anything that makes life easier can be a distraction in our daily lives. However, tech, you know, makes life easier in a lot of ways. Technology is a double-edged sword: total interconnectedness leads to collaboration and an easy way to share info, but it also leads to confusion and being overwhelmed by constant status updates/news feeds/product launches. Which may explain Thomas's fear of Facebook.
TH: It's not a fear so much as a self-imposed protection mechanism protecting me against the flood of things old friends and acquaintances post. Technology can be an enormous distraction and staying focused is increasingly difficult in the face of the growing torrent of news, e-mails, IMs, and everything else. That said, it's really exciting to be covering the cutting edge of tech, art, and design, and it enables us to have a team working together around the world.
To find out their favorite tech trends, V-day plans, and how they spent their recent snow day, read more