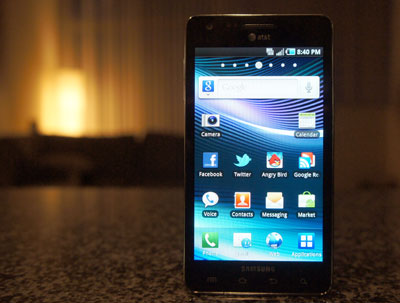 I'll come right out and say it: to me, size matters. So when I heard about the Infuse 4G's huge 4.5-inch screen, I asked AT&T to send me a review unit, possibly out of morbid curiosity. Could a phone this big really make a girl happy? The answer is yes, my friends. Oh, yes.
I had read from the AT&T press release that the Infuse 4G would be big, but I didn't realize just how large it was until I peeled open the box. The thing is massive (only a few inches smaller than the Samsung Galaxy Tab!), but strangely enough I didn't mind. In fact, the bright and beautiful Super AMOLED Plus screen makes this one of the most spectacular smartphones to look at, and totally worth the real estate it will be taking up in your bag or pants pocket. The Infuse is wide, but it's incredibly thin. The phone measures 9.24mm thick at its largest (it has a lip at the bottom where the speaker/microphone lives), and is very sleek with its brushed gunmetal color and texturized backplate. Plus, it's so light (maybe the lightest phone I've handled in recent memory), but it doesn't send off that cheap, plastic vibe. The quality of the hardware is really impressive, and I gotta give Samsung a round of applause for this one. Well done.
To read more about the cameras, call quality, and included apps and features coming with the Infuse 4G, then keep reading.