Two bits of good Safari news this morning — first, Apple has released another update (Safari 5.0.1) to fix that pesky AutoFill problem we reported a few days ago, and second, the Safari Extensions gallery is officially open for business!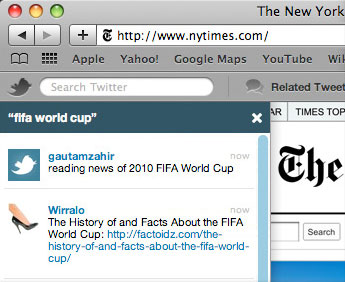 Firefox users have been enjoying
sweet extensions
for a while now (while Chrome users' extension choices
have been rapidly expanding
), and Apple has finally jumped on the wagon to allow developers to create helpful and fun extensions to make browsing easier. There's 16 different categories already up and running, and here, I'll tell you which ones you should consider adding on first. Check them out below!
Twitter for Safari — The official Twitter extension for Safari brings trending tweets to your webpage, and easily tweet about what you're reading with a quick link and URL shortener.
Woot Checker — Keep a constant eye on Woot with this extension, which notifies you when there's a new item up for grabs.
Delicious Safari — Quickly send links to your Delicious account.
See the rest of my picks when you read more.