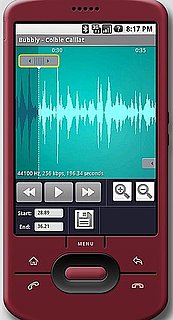 One of the first things I do upon receiving or purchasing a new cell phone is check out the ringtones offered. And while one or two are usually acceptable (think: the two iPhone rings that every single person uses), 'tis better to customize than to conform to a preset tone. If you have an Android phone, there's an easy way to customize your own ring through an easy-to-use app.
Ringdroid
, which is free, allows you to create ringtones, notification tones, and alarm tones from any audio file.
See how it works after the break.