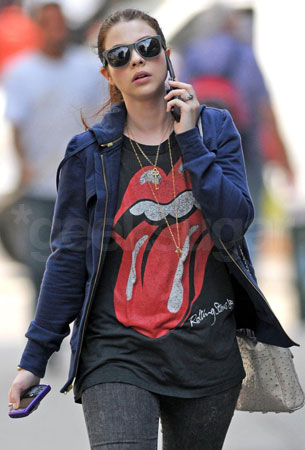 Obviously,
Michelle Trachtenberg
didn't get the memo about
how I'd wire Georgina Sparks
for her upcoming stint in college, otherwise she'd toss that
RAZR2 V9x
and BlackBerry Curve and replace it with an iPhone 3GS! Although I am digging her color choice for the outfitted BlackBerry (which is the phone of choice
on another show I'm quickly becoming addicted to
), I'm just left wondering who carries a RAZR anymore when you're as busy as Michelle!?
At least the iPhone would make it easy to check calendar appointments, make calls, and check emails, plus with endless apps, she can keep her professional (and personal) life chugging along without needing to carry a duo of phones. Pair the iPhone with the Jawbone Bluetooth Headset I recommended, and she's good to go hands-free.