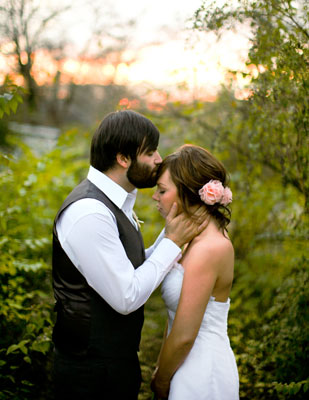 It's
wedding season
here on the Sugar Network, and if I know my geeks, you like the simplicity and ease of buying things online instead of battling the stores. Why shouldn't this practice extend to buying a
wedding
dress? Although slipping into a few
wedding
dresses to see how different styles fit before your big day may be a traditional (if not required) act, you don't have to settle for something you don't love just because you can't find it in the store. We caught up with Emily Newman of the fabulous
Once Wed
(one of my favorite blogs, not only for wedding and party inspiration, but for their massive online used wedding dress store), and she gave us some tips and advice about buying a bridal gown online. Spoiler: it's easier than you might think!
What should a bride know before starting her online search (i.e. measurements, the type of shoe she will be wearing, etc)? The first thing a bride should know is what type of style she is going for on her wedding day. The dress can really set the tone and mood for the entire wedding day and should coordinate appropriately. For example, if she is having an outdoor garden wedding, then a tea length dress would be sweet. However, if the wedding is inside a formal hotel ballroom then she might be better suited in a full-length gown. Of course, nothing is set in stone and some rules are meant to be broken.
What are some potential pitfalls when going online to purchase a wedding dress? Unfortunately, there are a lot of scammers out there, so it is important to be cautious when it comes time to buying the actual wedding dress online. I always suggest using secure payment options like Escrow when buying online. Never pay for a dress online with a check, wired money, money order, or cashiers check.
To see what Emily has to say about return policies, online sources to start your search, and more, just keep reading.