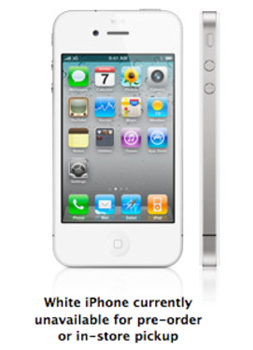 Had your heart set on getting your own white
iPhone 4 on Thursday morning
? Although no one has been able to crack
the case of the missing white iPhone
, you still have a few options — wait until the white iPhone 4 hits the market sometime "later this Summer," or suck it up and buy a different model phone. Good news is, there are a few awesome alternatives that can satisfy your color preference, and your need for a new gadget at the same time — you just have to know where to look. Best part? You probably won't have to call in sick to work and
sleep on the sidewalk
to get your hands on one.
BlackBerry Bold 9000 ($200) — A favorite of celebrities and business-types alike, the BlackBerry Bold 9000 is sleek, stylish and is a tried-and-true smartphone from the inside out. A crisp and clear VGA backlit LCD screen shows over 65,000 colors, comes with a 2MP camera, and syncs up with your Windows Media Player or iTunes for easy transfer of your favorite jams.
HTC EVO 4G ($200) — The iPhone 4's biggest competition just got a little more colorful. The white HTC EVO 4G will be sold exclusively at Best Buy starting on July 11, but you can place your pre-order now.
Check out the rest of my picks after the jump