The premiere of Tron: Legacy is just a few weeks away (get excited!), but if you want to take a piece of the action home with you, look no further than Florida-based Parker Brothers Choppers. The talented crew at this particular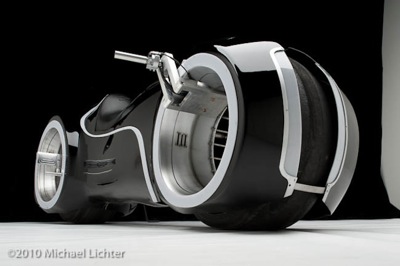 chop shop have created an incredibly life-like version of the revamped lightcycles you see in the film, and getting one will only set you back about $55,000. Bonus — you can even trick yours out with an iPad dock. The only thing it's missing? Lights!
A word of caution to those of you willing to shell out the cash to own a cycle of your own: if you pair this bike with one of the other Tron: Legacy-inspired goods (like the Hayden-Harnett bag, any of the TomTom jewelry, or official motocycle suits), you may end up looking like a major cosplay nerd who wandered away from the Comic-Con expo floor. Not that there's anything wrong with that, of course.