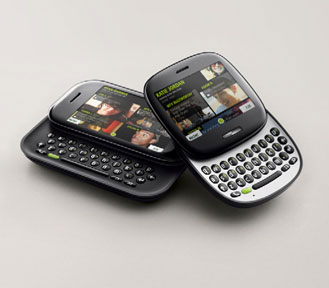 Today in San Francisco, Microsoft unveiled its "Project Pink" phones, the Kin One and Kin Two, who's OS is unlike the new Windows Phone 7, and more in line with Motorola's Motoblur. Microsoft acquired Danger Inc. back in 2008 (makers of the Sidekick), and these phones are a product of their partnership. The phones are definitively social devices, as Microsoft drove home that its market consumers are young, socially connected individuals who have a full and multifaceted digital life online.
The Kin One is a small and pocket-friendly clamshell design, while the Kin Two is a candybar-style phone, a little reminiscent of the Sidekick's design. Both phones include touchscreens and slide-out QWERTY keyboards. The homescreen, called your Loop, shows you all your latest status updates and allows you to easily update all of them at once. Additionally, the "Kin Spot" is a cool feature that allows you to use your touchscreen to locate content on your phone you want to share (whether it be a website, photos, texts, etc.), "pick it up" (like copying), then drag and drop the content into the "Kin Spot" to quickly and automatically share with your favorite people.
Want to know more about the Microsoft Kin series phones? See lots of photos, and all the dirty details, when you read more.