Feeling lost and like the Internet is your only connection to a home you left behind? The website Just Left Home was set up to be a resource for people who'd recently left whatever cushy nest they were used to and needed a resource for, well, everything in their life.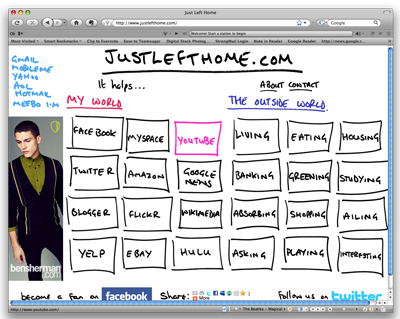 As they say, it's intended to be a "homepage-away-from-home cure-all miracle pill."
When you go to Just Left Home, you're greeted with big buttons to the places you probably visit most online: Facebook, Twitter, Amazon; on the right side of the page, or "Outside World," you get links to the JLH forums, also a helpful resource.
Even though this site was created for people feeling lost in their world, it's totally helpful to me, who's pretty secure. I guess we can all use a little help.
To learn how to post your favorite websites to our Website of the Day group, read more