Picking out a pair of earbuds is a task in and of itself, especially with many different options begging for your attention. But what if you could get an awesome pair of earbuds just by buying a comfy cozy hoodie? That's exactly what you get with a HoodieBuddie ($44) — a hoodie with built-in earbuds that will keep you rocking and rolling on your way to the gym, out with your pals, or just when you're doing some housework. I should know, I tried one.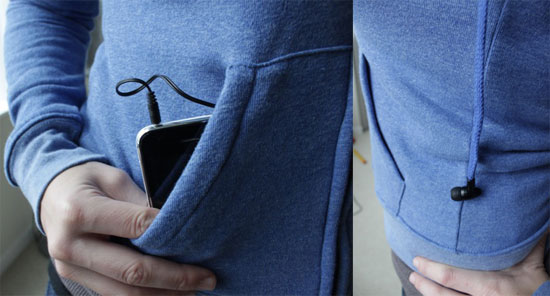 The HoodieBuddie comes stocked with a pair of incognito earbuds that runs from the pocket of your hoodie to the tips of the drawstrings. This enables you to listen to your tunes just by plugging in your MP3 player, iPod, or iPhone into the 35mm jack in the pocket, and have fresh, untangled earbuds at your fingertips. Best part? The whole she-bang is machine washable, so you can toss the HoodieBuddie into the wash on laundry day, and not worry about funking up the innards.
Want to know how they perform? Find out after the break.