Does anyone else dread having a card passed around at work for a colleague's birthday, congratulations, or his or her last day? Even if it's someone you genuinely like, having to sum up your sincere thoughts in a one-inch space of cardstock among your other coworkers' sentiments is just awkward. It's like the grown-up version of that yearbook peach "Have a great Summer!"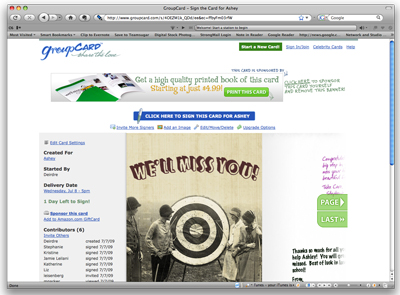 Thankfully, the website
GroupCard
eases the pain a little bit. There's no physical passing around, first of all — it's an electronic pass-around that's accomplished by just emailing the card to the people who need to sign it. You then send the e-card (who cherishes greeting cards from co-workers these days anyway?) to the recipient, and wish her well.
Of course, it can't help you craft an articulate note summing up the perfect sentiment. You're on your own for that one.
To learn how to post your favorite websites to our Website of the Day group, read more