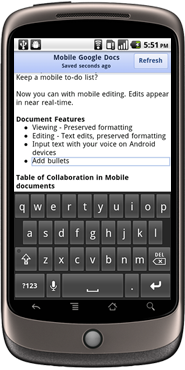 Google Docs
went mobile
over the Summer but lacked some key functionality: the ability to edit your work. Now, you can. Today, Google announced
mobile editing
for Google Docs on Android and iOS devices.
In addition to editing saved documents, you can also create new documents from mobile devices. To view and edit documents, visit docs.google.com from your iPad, iPhone, or Android device and tap the Edit button to switch from viewing mode to editing mode. Mobile editing capability will be rolled out to Android devices running version 2.2 and iOS 3.0 and above.
Check out a demo video of the new functionality after the break.