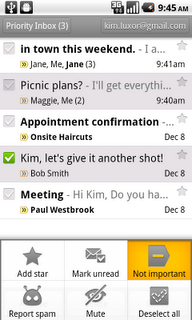 One of the benefits of toting a phone that runs Google's OS is taking advantage of Google products' optimal performance on the device. Such is the case with the newly updated
Gmail for Android
, which comes with "a bunch of updates based on your feedback."
First, Gmail's popular and useful Priority Inbox is now included in the app. Priority Inbox view on your Android device includes all of the messages deemed important, regardless of whether or not they have been read; you can archive messages, delete, or mark them unimportant. You can also set up notifications for your Priority Inbox; configure your phone to vibrate or ring in the settings menu.
Find out what else is new after the break.