For every awesome website of the day, there's a site that's a total dud. And while most aren't worth mentioning, this site really got my blood boiling. FloJuggler is a site dedicated to tracking the "periods of one or more girls" — for guys. Seriously.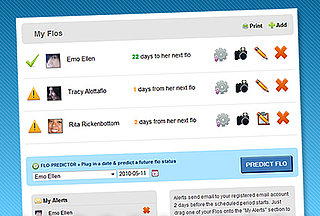 According to the site's FAQs, FloJuggler serves this purpose:
"Let's say you have two tickets to the big concert and you want to get lucky afterwards because . . . well . . . the tickets are $75 each so . . . you have a list of possible candidates but you're just not sure which one is on her flo."
Want more details on how this site works? You know you do! Find out, along with my opinion (as if it wasn't already obvious), after the break.