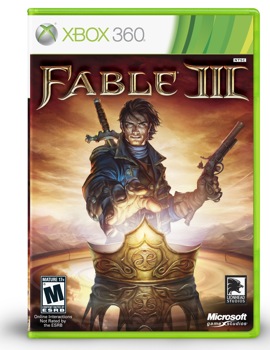 Being woken up in a comfy bed by your dutiful butler, Jasper, doesn't seem like that bad of a deal for a young princess. I mean, you live in a castle, your brother is the king, and you have a hot boyfriend waiting for you in the garden. Seems awesome, right? As you begin your adventure in
Fable III
, which is available today on your Xbox 360 and PC, you realize that, in fact, not all is well in Albion. Picking up around 60 years from where
Fable II
left off, you quickly discover that it's up to you to change the future of the kingdom by sparking a revolution, and take your place on the throne. However, battling your way to the throne is just a means to an end. If you get there, you'll have to make some serious decisions on the future of your kingdom and take the side of good, which will help the people of Albion or veer evil in the footsteps of your tyrannical brother. The decision is yours.
I've been waiting a long time to experience Fable III, a continuation of the wildly popular Fable II release of 2008, and it didn't disappoint. Bringing together a sort of "choose your own adventure"-style game play, beautiful landscapes, and a whole new menu feature make this title a worthy successor to one of my favorite games of the past few years.
Find out more about Fable III, and read the rest of my review after the break.