I hardly knew ye, FLO TV. Just when I was getting pumped about the idea of streaming live TV to my smartphone with the help of a steadfast (and battery-saving) Mophie Juice Pack, this disappointing news falls into my Google Reader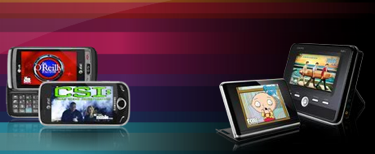 — FLO TV has been axed. The Qualcomm-owned company was hoping to bring live and on-demand TV to the masses through its many flavors of portable devices (including smartphones), but after failed attempts to find a buyer, Qualcomm has decided to shut down FLO TV despite awesome buzz during this year's CES expo.
But not all hope is lost for mobile TV-lovers out there — there are other ways to get your favorite shows on the go. Want some examples? Then just keep on reading.