This weekend, I celebrated alongside thousands of others at the three-day Coachella Music festival. Held in Indio, California, it's one of the largest in the US with around 226,000 in attendance last year. This year, Intel sponsored my trip there — taking care of my accommodations, transportation, and nourishment — so that I could check out the Creators Project: a joint venture between Intel and Vice to promote independent artists who use technology in their art. I'll be talking more about the project in the next few days, but first: a few awesome things I wasn't expecting to find at Coachella.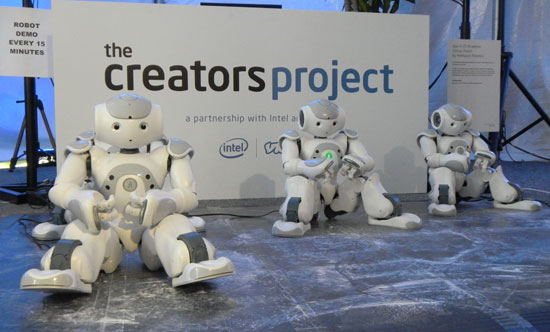 Dancing robots and video games — Thanks to the Creator's Project, we were treated to home brew video games and 3D art. One artist built a computer program that allowed these robots to perform a dance routine in perfect unison. Check out the video!
A roller rink — Off the main drag of the main stage, we found a fun carnival tucked in with the Coachella campground. There was a full on roller rink (BYOS — bring your own skates), fun seesaws, swings, and an arcade. Be sure to bring lots of quarters if you ever go!
See the rest of the list after the break.