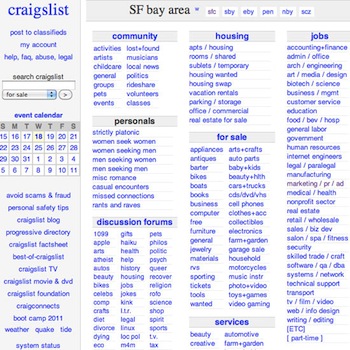 I spend a lot of time on Craigslist — looking for tech goodies, apartments, garage sales, whatever — and you can get lost in its many offerings, and find yourself off track from your initial surfing goals. Sometimes, it's better to use a third-party app or tool to find what you want without ever visiting the site. This sure cuts down on spam and time, so check out a few ways you can find what you're looking for without ever pointing your browser to Craigslist.com.
Craigslist iPhone App (Free) — This iPhone app has been tried and tested by one of our TrésSugar editors during a recent apartment hunt, and she says this is the best one she's tried. Coming with the ability to filter and nail down goods, digs, and other free goodies on the go, this app doesn't crash like some of the other lesser-reviewed apps. Plus, it's free!
Housing Maps — Speaking of apartment hunting, Housing Maps allows you to see available rentals on a map instead of clicking through each listing, then opening new windows for a Google Maps locator. Filters include pets, price, keywords, bedrooms, and pictures, but the good news is, if the listing has photos, you'll see it pop up on the map without clicking through to the ad.
See the rest of the list after the jump.