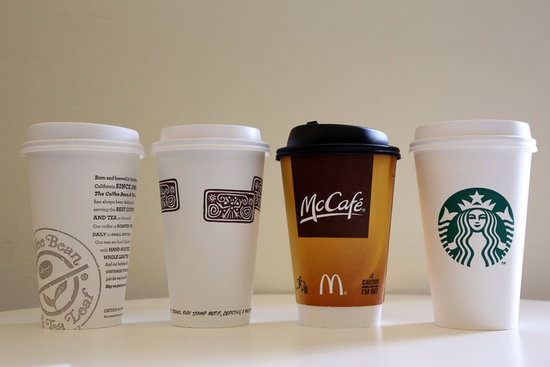 The start of Fall marks the release of pumpkin spice lattes across coffee chains everywhere. Today, McDonald's released its new version of a pumpkin spice latte. In a blind tasting, we compared the McCafé beverage to other well-known coffee makers, including Starbucks, The Coffee Bean, and Peet's. Take a look to see how it fared.
McDonald's McCafé Pumpkin Spice Latte
The sweetest of the bunch, the McCafé Pumpkin Spice Latte ($3.29) looked orange as a pumpkin but smelled just like sugar and Mexican cinnamon. Voters could barely make out the coffee and described the latte as a "melted candy creamer." Most didn't think they could possibly drink a whole cup of the sweet drink. A few would drink this if there was more coffee; however, many said it was a pass.
Find out which competitor makes the best pumpkin spice latte.