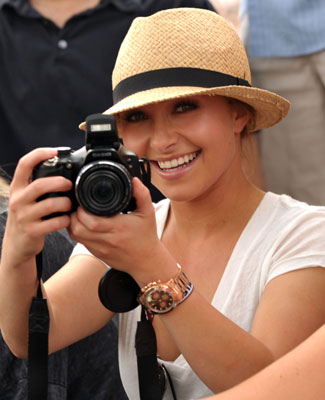 This weekend's
Coachella music festival
wraps up today down in Indio, CA, and in case you missed anything,
Buzz
and
Fab
have been covering all the music and fashion angles! However, musicians aren't the only ones who make their way to the desert every April — swarms of music-loving celebrities have made a habit of attending the festival, and this year
Hayden Panettiere
has brought along her
Casio EX-FH20
to snap some pics of the action.
Hayden is no stranger to tech — she has been known to get her game (and game face) on from time to time — so it's not surprising that she's sporting the 9MP Casio that comes with 20x optical zoom to catch all her favorite bands on stage, even if she isn't sitting front row. Want to hear more about the camera? Then just keep reading.