Gamefly has been my personal go-to source for game rentals by mail for a while now, but Blockbuster is attempting to woo some of Gamefly's customers by adding video games to its online rental service.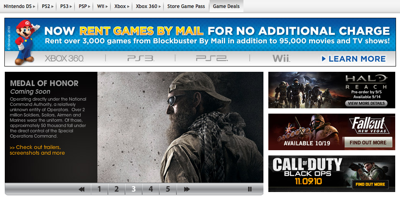 Over 3,000 titles for your Xbox, Xbox 360, PS3, PS2, and Wii consoles are available for rent at no extra charge with your Blockbuster by Mail subscription, while new customers can start renting games by mail for as little as $9 a month (along with access to the rest of Blockbuster's 95,000 film library) with an unlimited amount of titles in rotation.
Blockbuster has already been trying to compete with Netflix in the movie by mail rental market, but now with Netflix's new streaming partnerships, it seems that Blockbuster will need to attack from all angles to keep up.