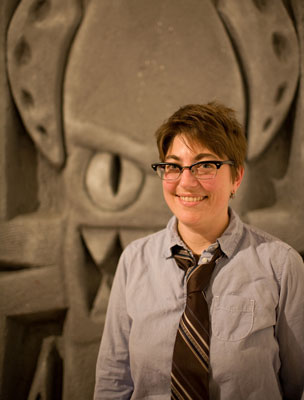 Continuing on with our
Geeks We Love
series, we take a turn from gadgets and come to a genre that is close to my own heart:
sci-fi
.
Resident io9 expert Annalee Newitz is the editor-in-chief of one of the most comprehensive sci-fi blogs around. But more than that, she's a huge sci-fi fan who grew up obsessing over everything from aliens to cell phones, which parlayed into a dream job of writing spectacular content every day for our enjoyment. She certainly knows her stuff, and although you may not see the connection right away, she can totally relate to you Twi-hards out there. No, really!
Have you always been a sci-fi addict? What other forms of geekery do you enjoy?
I've been obsessed with science fiction since the sixth grade, when I read Ray Bradbury's Martian Chronicles and thought it was the most mind-blowing thing ever. But I'm also a huge science and technology geek, so I'm always reading up on new discoveries in science journals and reading gadget blogs to find out about the new Android phone hotness.
Throughout pop culture history, geeks and nerds have always been portrayed as outcasts. With the popularity of tech, sci-fi, and geeky film stars, do you think that the tide is turning for geeks everywhere?
The tide has been turning for a long time. Geek chic was kind of a 1990s thing, and now geekiness has evolved into just another hipster style. You can go to the mall and there's always some "cool geek" store with weird t-shirts, cute hats that have ears on them, and collectible toys made by artists. It's hard to think of geeks as lame when they're inventing the gadgets and online social networks that all the popular kids are dying to use.
Find out what tech toys Annalee carries around in her bag, why she thinks the Twi-hard bashing should stop, and how chatting up a geek is easier than you think when you read more