Russian Missile Test
New York Comic Con, Astronauts, and More Tweets From Geeks We Love
This week in the Twitterverse, our favorite astronauts at the International Space Station spot a Russian nuclear missile test, and the geeks we love on the ground take over New York Comic Con. See what European Space Agency astronaut Luca Parmitano, actress Karen Gillan, Geek & Sundry's Felicia Day, and more are up to in this week's top 10 tweets!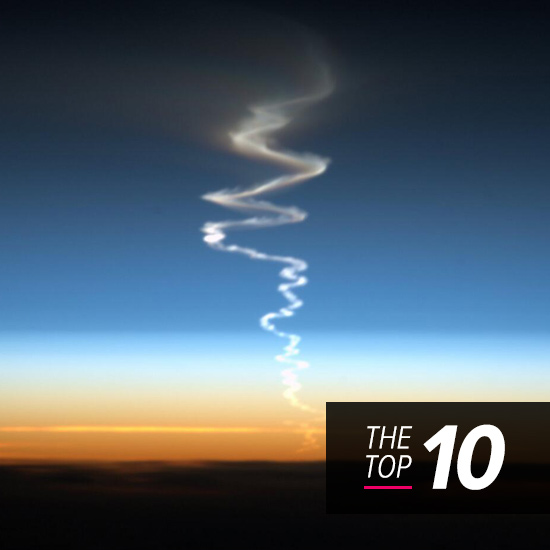 The Sync Up host Veronica Belmont flew to Gotham for the eighth annual New York Comic Con, which is the biggest pop culture convention on the East Coast.
ESA astronaut Luca Parmitano spots the test fire of the Russian Topol, a nuclear-capable missile. What Luca spotted was the vapor trail . . . of an intercontinental ballistic missile.
Good eye, Luca! RT @astro_luca missile launch seen from space: an unexpected surprise! pic.twitter.com/zSVP0suQIO

— Karen L. Nyberg (@AstroKarenN) October 11, 2013
Guardians of the Galaxy actress Karen Gillan has a birthday that's not too far off. Make the former Doctor Who darling a happy girl on Nov. 28 with this Mad Hatter cake!
I want this cake pic.twitter.com/Evv8u5aZLp

— Karen Gillan (@KarenGillan2) October 8, 2013
Geek & Sundry's Felicia Day takes over the old Flog set with an airsoft pellet gun. Pew pew!
Bill Nye, host of Why With Nye, weighs in on the fact vs. fiction of Gravity.
.@neiltyson Spy, er, uh... weather satellites go polar, north/south. After collision, the debris could be going almost direction. #nitpick

— Bill Nye (@TheScienceGuy) October 10, 2013
The relationship between Peanuts' Lucy and Charlie Brown reminds actor Wil Wheaton of the shutdown drama between our president and Speaker John Boehner.
Dear @BarackObama: Please keep this in mind as you attempt to negotiate with @SpeakerBoehner. Signed, The Majority. pic.twitter.com/KsH84N1FCj

— Wil SCREAMton (@wilw) October 10, 2013
Have you spotted The Star Wars Craft Book author Bonnie Burton on the floor of New York Comic Con?
#NYCC I AM IN YOU! pic.twitter.com/Zmo70jZnO0

— Bonnie Burton (@bonniegrrl) October 11, 2013
Actor Simon Pegg has a Starfleet insignia sewn onto his jacket in honor of Montgomery "Scotty" Scott, the USS Enterprise miracle worker of an engineer.
Undercover engineer. pic.twitter.com/QzNHeEw1Ym

— Simon Pegg (@simonpegg) October 7, 2013
Astrophysicist Neil deGrasse Tyson was lucky enough to meet Malcolm Scott Carpenter, who was also the fourth American in space and one of the original seven astronauts selected for Project Mercury in 1959.
Scott Carpenter (1 May 1925 -- 10 Oct 2013) 2nd American to orbit Earth, back when we did such things. pic.twitter.com/EUBcESw6cj

— Neil deGrasse Tyson (@neiltyson) October 11, 2013
Former Marvel Comics chairman Stan Lee is immortalized in Funko form, exclusively for New York Comic Con.
Bring home your #Generalissimo w/ this handsome @NY_Comic_Con @OriginalFunko @ Crazy Cat Collectibles booth 1555 pic.twitter.com/b7thsDOIQu

— stan lee (@TheRealStanLee) October 10, 2013
Adam Savage of MythBusters finds the Scottish counterpart of his cohost, Jamie Hyneman.
Last year in Scotland I found a nutcracker that reminds me of Jamie. pic.twitter.com/CE3xPMc4Ij

— Adam Savage (@donttrythis) October 9, 2013