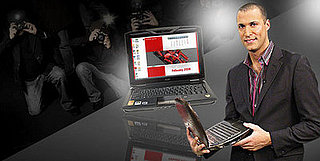 Mar 17 2008 - 2:15pm
Photographer extraordinaire Nigel Barker may have a lot to say to model-hopefuls on America's Next Top Model, but did you know that he is also a laptop expert? Barker not only uses a Sony VAIO and an Ego Signature on a day-to-day basis, but he also knows about what's hot and what's not about all the other leading laptops on the market today!
Laptop Mag got all the goods from Barker, including his thoughts on the teeny, weeny MacBook Air! To see his "reviews" of various functional and fashionable laptops, click "start slideshow"!