Most Popular GIFs
Twitter's Top Animated GIFs Go to GIF Hell
The top trending and most tweeted animated GIFs of all time now have a home on the Internet: GIF Hell. The web tool pulls in moving images from across the Twitterverse and puts those pictures into two categories of viral, currently popular or most popular of all time.
What's rising to the top of GIF Hell this morning? A diva moment à la Lady Gaga, who pointed (albeit politely) at the car door that should have already been opened for her.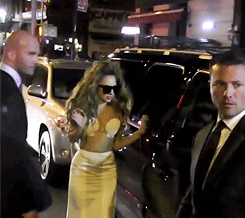 Last night's VMAs dominate the most tweeted list. One Direction was apparently the Twitter winner after yesterday's award show. Topping the list of all-time most tweeted GIFS is One Direction clapping with 21,235 tweets, followed by Taylor Swift whispering blasphemies to her BFF Selena Gomez after One Direction's Harry Styles took the stage with just 9,986 tweets. And in third is — you guessed it — yet another One Direction GIF. The Internet can't seem to get enough of the pop boy band.