Mar 18 2013
Sorry news junkies, but Google has an update you won't like: the company's beloved Google Reader has fallen victim to Spring cleaning. As of July 1, 2013, the RSS feed aggregator, which has maintained a devoted following since 2005, will power down so that Google can "focus — otherwise we spread ourselves too thin and lack impact," the company said on its official blog.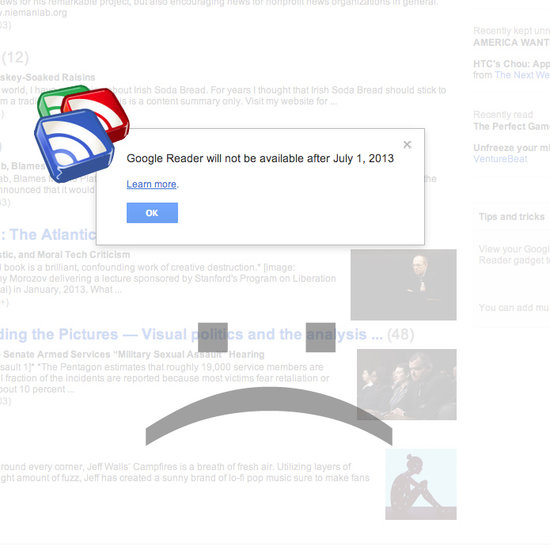 A petition to keep the service has already collected over 50,000 signatures, but the truth of the matter is, Google has no plans to replace Reader.
Headline grazers, we've got your web browsing back. To find out how to export your Google Reader subscriptions and what the best RSS aggregating alternatives are, keep calm and read on.
Export Your Data
Google has suggested Google Takeout, a data liberation platform that supports exporting data from multiple Google products (not just Reader).
Your RSS subscriptions will be exported to an .xml file, along with a list of your bookmarked items and notes you have created. An .xml file is standard across most RSS readers, so you should be able to import the data into an alternative without a problem.
To export, follow this link to retrieve data from Reader only. You can find more information at dataliberation.org.
Turn to Alternatives
These feed aggregators will get you back to your information-collecting ways in no time:
What Google Reader alternatives have you tried and tested? We want to hear where you're taking your subscriptions!