Oct 20 2013
NASA's baaaaackkkk (and so is our top 10 tweets of the week)! We're celebrating the end of the shutdown, and so is Curiosity Flight Director Bobak Ferdowsi.
In other Internet news, Geek & Sundry's Felicia Day received a Trekkie smooch, and author Neil Gaiman and Star Wars: Episode VII director J.J. Abrams both expressed their love for literature. See Felicia, Neil, J.J., and more in this week's round of top 10 tweets from geeks we love.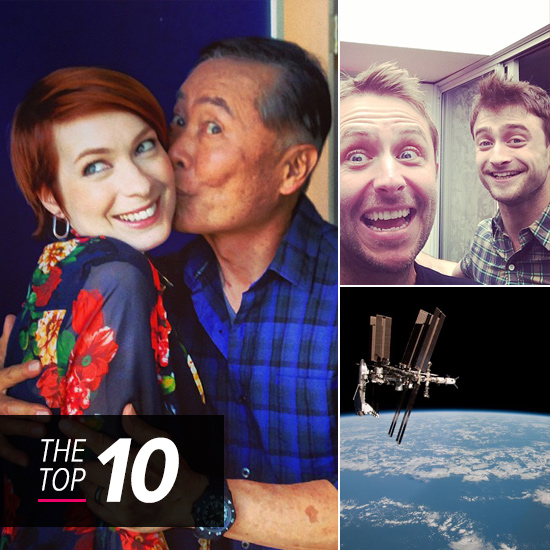 Star Wars: Episode VII director J.J. Abrams believes in the power of the printed word.
"A book must be the axe for the frozen sea within us." - Franz Kafka #BRQuoteDuJour pic.twitter.com/9eTur95jR6

— Bad Robot (@bad_robot) October 17, 2013
Geek & Sundry's Felicia Day is one lucky lady. The actress is working with the legendary helmsman of the USS Enterprise, George Takei.
After a 16-day government shutdown, Curiosity rover Flight Director Bobak Ferdowsi welcomed NASA back to Twitter.
Welcome home @NASA & friends (too many to list)! Missed you. Let's go do something awesome. pic.twitter.com/HJBeCQmvDO

— Bobak Ferdowsi (@tweetsoutloud) October 17, 2013
The countdown continues after the break.
Nerdist founder Chris Hardwick's stoke level is very high in the presence of Harry, er, Daniel.
As The Sync Up host Veronica Belmont discovered, there are now two completely different megaevolutions to the Pokémon franchise.
WAIT THERE ARE DIFFERENT POKÉMONS? X and Y? What is the difference? Am I too old to understand?

— Veronica Belmont (@Veronica) October 14, 2013
Astronaut Karen L. Nyberg of Expedition 36 was given a sweet memento for her 44th birthday.
Proudly wearing my birthday present from home... http://t.co/PfjueU7Uji

— Karen L. Nyberg (@AstroKarenN) October 18, 2013
Author Neil Gaiman, who delivered a riveting speech on the importance of libraries and reading, discovers this geeky pumpkin inspired by his dark fantasy series.
AMAZING Sandman Pumpkin Carving: http://t.co/s730u3NzgQ

— Neil Gaiman (@neilhimself) October 14, 2013
CEO Marissa Mayer shows off the new "whimsical" Yahoo! signage outside of the company's Sunnyvale, CA, headquarters.
Photo: Happy Friday! New shiny sign in front of headquarters. on Flickr. http://t.co/50sTyX0MXc

— marissamayer (@marissamayer) October 11, 2013
Actor Wil Wheaton unearths the ultimate amphibious sci-fi mashup.
this is getting out of hand, monster designers. https://t.co/dxghJVkLaY

— Wil SCREAMton (@wilw) October 18, 2013
Microsoft chairman Bill Gates is switching gears from programming philanthropist to . . . editor? Can't wait to see the Gates-curated issue of Wired.
I got to wear a new hat today: magazine editor. Met w/ the @WIRED team re December issue. pic.twitter.com/cCh8prHHe7

— Bill Gates (@BillGates) October 14, 2013