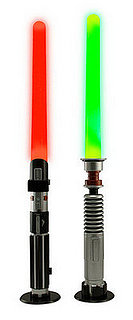 Mar 13 2008 - 10:20am
Since we spend more time at work than we do at home, naturally, you'd want to be as comfy as possible. That includes having all of your nerdy desk accessories within arms reach. I mean, who hasn't wanted to take a break from all those TPS reports and flow charts to play with their Lightsaber desk lamp for a few? I for one, am 100 percent on board for that. Geek is chic people, get with it.
Check out my slideshow for more uber geeky, but totally essential, desk accessories!