While some remain pledged to the printed word, many readers have transitioned to iPads and Kindles. For bookworms with a serious appetite for electronic reading, there's a new kind of rental service to satisfy your thirst for new narratives: Oyster (free to download, $10 per month membership), an iOS app that launches on the iPad today with a 30-day free trial for unlimited reading.
Oyster, which has been redesigned for iOS 7, offers a truly beautiful reading experience, but is it enough to persuade ebook owners to begin renting titles for a monthly fee?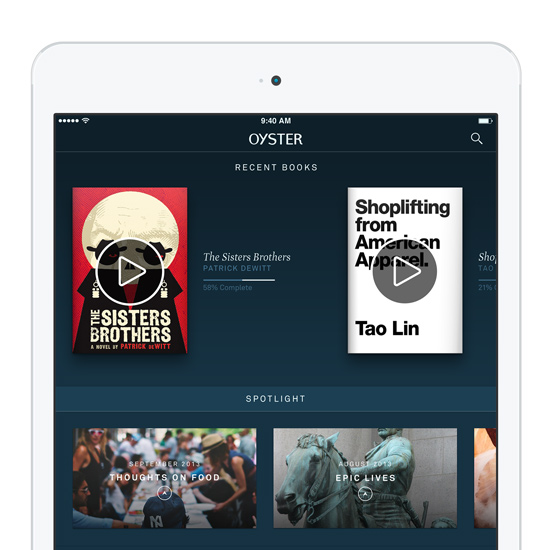 New iPad App
The new iPad app mimics the iPhone version, with a few added bonuses. There's a darker design with more space between elements that's more suited to nighttime reading. The Library browser presents large book covers and immersive imagery. Landscape mode is now available across the app, and users can sync activity and books between devices.
Reading Experience
Reading on both iPad and iPhone is largely the same. Oyster has five different themes to choose from: Standard, Nomad (sans-serif, red accents), Herald (serif with gray background), Crosby (classic serif with tan background), and Midnight (white text on black). The size of the text is fully adjustable, and that same settings panel provides a shortcut to your phone's brightness settings. Oyster stores up to 10 books locally on the device for offline access.
A "Read privately" option prevents Oyster from publishing the title you're reading in your profile or friends' activity stream. Oyster also acts as a social network and hosts profile pages for each user that lists what they want to read and what they have read. Books that the user has rated with four or five stars are listed under their Favorites.
Library
According to Oyster, the Library has over 100,000 titles. Amazon's Kindle Owners' Lending Library has over 350,000, but readers must have both a Kindle and a Prime account ($79/year).
In the Library, there are sci-fi classics like Neal Stephenson's Cryptonomicon and newer titles like The Girl Who Fell From the Sky by Heidi Durrow. The most popular titles on Oyster include Life of Pi, Water for Elephants, and Extremely Loud and Incredibly Close. Oyster doesn't have many recent bestsellers I searched for, including any of Malcolm Gladwell's books, Steve Jobs by Walter Isaacson, or Thinking, Fast and Slow by Daniel Kahneman.
Readers are essentially borrowing titles from a public library they have to pay for, minus the inconvenience of due dates. Would you relinquish your book ownership to read an unlimited amount of books for $10 per month? Will Oyster disrupt book publishing, like Netflix did with TVs and movies?