Cat Photo Apps
Cat Power: 5 Apps That Add Feline Photo Bombs
Hello, kitty. If you love felines as much as we do, then you'll want these top-notch cat photo editors on your iOS device ASAP. Let's face it, cats make us laugh out loud harder than any other creature in the animal kingdom. Maybe it's because cats have more emotional range than Meryl Streep on her best day; they're cute, then they're cuddly, then they hate you, then they go psycho on a scratching post. In any case, we've got the five best ROFL-inducing feline photo-bombing iOS apps for cat lovers.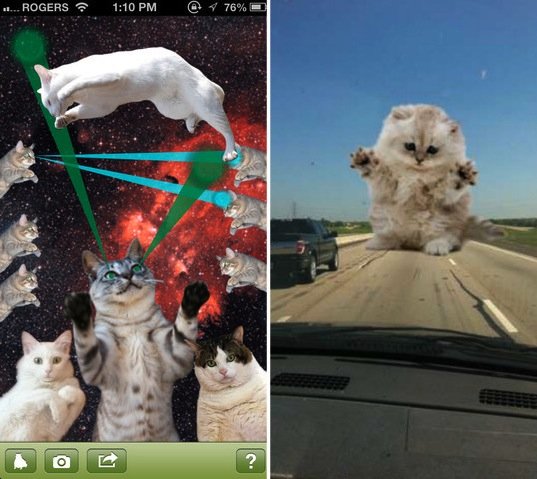 Cat Effects (free) — Our personal favorite doesn't cost a penny, unless you want even more cats to choose from, in which case you'll need to fork over an extra dollar. Take photos directly from Facebook or your camera roll, and add as many cats to the image as you want. Use gestures to resize, move, and rotate the cats for primo placement.
CatPaint ($0.99) — Laser eyes and cat sounds . . . need we say more? Choose from 20 different cats, and they'll meow as you add them to your pictures. Share the cat paintings instantly on Instagram, Twitter, or Facebook.
Find even more cats, kitties, and lasers after the break.
Laser Cats ($0.99) — For an app that specializes in the art of electromagnetic radiation, opt for Laser Cats, which features domestic and exotic felines, as well as cat and kitten ears. Choose from all kinds of lasers and fireballs, then share via Facebook, Twitter, SMS, or email from the app.
Cat Booth ($0.99) — This app grabs photos from your camera roll, Facebook, Camera+ Lightbox, Instagram, Flickr, or Picasa (isn't integration sweet?), to which you can add a plethora of cats and cat ears.
Cat Lover's Camera (free) — A collaboration with EA games and PopCap resulted in new Bejeweled Blitz Cats and gems to choose from. Modify photos, scroll through a gallery of all your cat masterpieces, then easily share your new pics on social media.