Time to hit the slopes — areas around the country are experiencing Decembrrrr, which means that there is plenty of incoming rain and snow. This morning, some parts of California were colder than Anchorage, AK; and Denver, Great Falls, MT, and Portland, OR, all experienced record lows.
Stay on top of the weather forecast with iOS and Android apps that'll let you know exactly when the Winter weather will hit your neighborhood. Whether you're a daredevil park shredder or a two-planker, turn to these downloads for the latest information on trails, snowfall, and peak conditions.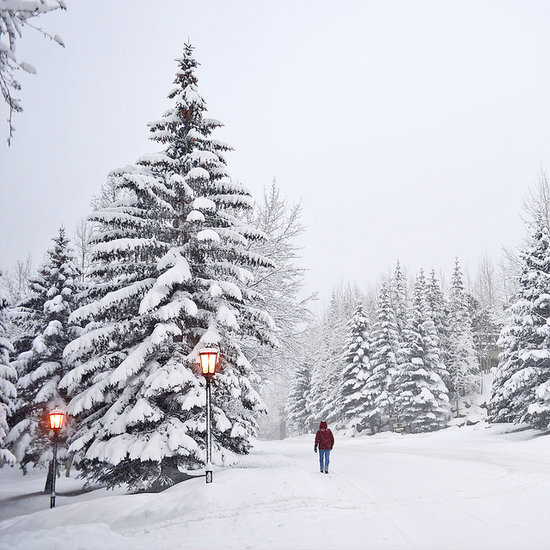 All Snow (free for iOS [1] and Android [2]) was built for skiers and snowboarders in search for the best white stuff around the world. The app provides conditions and forecasts for over 2,000 areas worldwide. Purchase in-app upgrades for the ski resort of your choice ($1 each), and get access to trail maps, discounted lift tickets, and see your stats from each run (top speed, vertical drops, and more).
SkyMotion (free with ads for iOS [3] and Android [4]) is designed for rainy areas, offering detailed information on exactly when and where the wet weather is due to arrive. To ensure the most accurate information possible, the app also integrates ground-level observations and provides a unique forecast for every .6 square miles.
SnoCountry [5] (free) is our editor's pick for ski report apps because of its clean and simple design. It's only available on iOS, unfortunately. SnoCountry is a great place to research before hitting the trails. It provides trail maps and forecasts for major resorts, and new snowfall, plus base depth, information.
REI Snow Report (free for iOS [6] and Android [7]) has a great interface for viewing new snowfall, temperatures, and base depths at a glance. You can get push notifications for new snow and when trails open. It also includes some trail maps from major resorts around the world.
Open Snow [8] is a free website that's worth pinning to your homescreen. The site provides "hand-crafted reports" by real-life local forecasters who offer updates from the ground. There's a fantastic Powder Finder which is an interactive map that shows new snowfall depths all around the country.
Source: Getty / EMMANUEL DUNAND [9]