Benedict Cumberbatch Pumpkin Carving
The Week's Top Geek Tweets: Batman, Benedict, and Bowling
This week, our favorite geeks sent dispatches into the Twitterverse about Ben Affleck's new gig, pumpkin Cumberpatches, and zombie-whacking bowlers. The World's End writer and star Simon Pegg set up a bowling league made up entirely of himself, and The Star Wars Craft Book author Bonnie Burton spots a most serious Benedict gourd carving. We also learn from director J.J. Abrams that the Star Trek and Sherlock actor can cry on demand! See Simon, Bonnie, J.J., and more in this week's top 10 tweets of the week from geeks we love.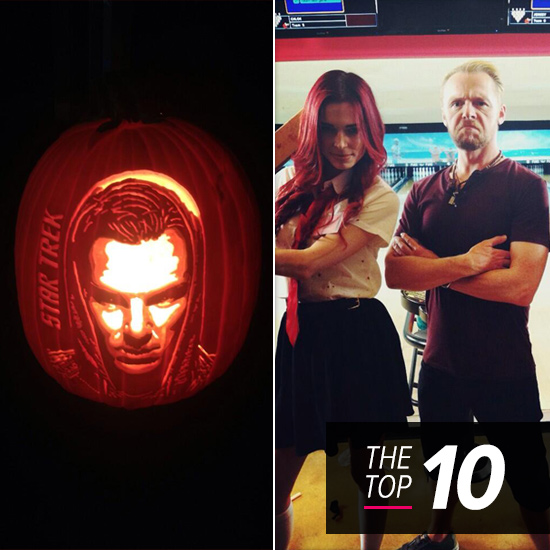 Ouch. Tough love from Star Trek: The Next Generation actor Wil Wheaton for the newest star of the Man of Steel sequel. Perhaps one of these alternatives will do?
Really looking forward to seeing Affleck bring the depth and gravitas to Batman that he brought to Daredevil and Gigli.

— Wil Wheaton (@wilw) August 23, 2013
More pithy messages from your favorite geeks after the break.
The World's End writer and star Simon Pegg knocks down some pins with . . . himself. Chloe Dykstra and Chris Hardwick dress up as the blood-splattered, zombie-killing Shaun of Shaun of the Dead.
Army of me. Hanging tough with @nerdist and @skydart. You are about to get red on you. pic.twitter.com/ZBhjFYgpDW

— Simon Pegg (@simonpegg) August 22, 2013
To celebrate Star Trek Into Darkness's release in the iTunes Movie Store, director J.J. Abrams hosted a short tweet up in which he reveals . . . Benedict can feels all the feels on command!
It made the other actors crazy that Benedict could cry on cue like this. Watch when his tear falls! -JJ

— Bad Robot (@bad_robot) August 23, 2013
The Sync Up host Veronica Belmont spots a baby Felicia Day as Sheila in Judd Apatow's 2001 show Undeclared.
So I was watching old episodes of Undeclared on Netflix last night, when suddenly a wild @feliciaday appeared! pic.twitter.com/Nt1HdBkolH

— Veronica Belmont (@Veronica) August 23, 2013
We would totally sign up to test Kari Byron of MythBusters's rad VW hack on the traffic-ridden roads of Northern California.
My new design to get around traffic. pic.twitter.com/f4jDCuKDmK

— Kari Byron (@KariByron) August 22, 2013
Supernatural actress Felicia does R & R the right way: graphic novels + Plants vs. Zombies (2!) = the best way to wind down.
Filmed so late last night (3am!) I'm calling today a wash. Comics store and PvZ 2 is the most work I'm gonna do today, hehe.

— Felicia Day (@feliciaday) August 17, 2013
Um. Bonnie Burton (author of The Star Wars Craft Book), please take us to this pumpkin Cumberpatch.
Benedict Cumberpatch pumpkin by @ThePumpkinGeek at @TheGeekieAwards!! #StarTrek cc: @Sherlockology @cumberbatchweb pic.twitter.com/UKtgVYKH2d

— Bonnie Burton (@bonniegrrl) August 19, 2013
Bill Nye the Science Guy snaps a shot of a cumulus cloud from up above. That perspective never ceases to amaze.
Evaporation, condensation, precipitation, all in one shot. Earth is my favorite planet. Welcome aboard. pic.twitter.com/tNN0mfUYbc

— Bill Nye (@TheScienceGuy) August 19, 2013
Star Trek and X-Men actor Patrick Stewart is just like us!
I remember my first Frappuccino - Union Station, Los Angeles. 17 years later and it still tastes like iced nectar. pic.twitter.com/vEfFKkfhs8

— Patrick Stewart (@SirPatStew) August 18, 2013
Oh, Karen Gillan, if only this biography were true. The Doctor Who and Guardians of the Galaxy actress retweeted her alternative fate, which includes the noble title of President of the Supreme Court of Gingers.
@KarenGillan2 kaz we r loving your Wikipedia pic.twitter.com/MpSM8TeO0c

— layla. (@laylaEccleston) August 20, 2013