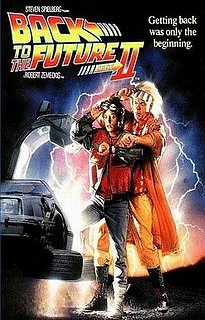 Feb 11 2008 - 7:03am
Some of my favorite movies growing up were the Back to the Future movies (I loved that Michael J.), particularly the second one, because of all the crazy technology I thought we could expect in the 21st century. All the kids had hover boards, the re-hydrater could take a tiny piece of food and zap it into a full gourmet meal, there were TV screens that doubled as window shades — I could not wait for it to be 2015 so I could have all those amazing gadgets (Sidenote: If they had flying cars, then why did everyone still look old as dirt?). I swear, every year after that movie was out, some other kid was telling me that this was the year hover boards were really coming out.
Well, it's 2008 and we still don't have hover boards, my microwave still makes my burrito hot on the ends and icy cold in the middle, and I have never seen a video waiter. And we know how the film series' benchmark technological innovation — the time-traveling De Lorean — has panned out. Watch my slideshow to see how Back to the Future II's imaginary gadgets have stacked up, nineteen years later!