It seems that Apple is in the gift-giving spirit this month. iTunes is offering freebies Oprah style with a new app for iPhone and iPad called 12 Days of Gifts (free). After Christmas Day, Dec. 25, users with the app will be able to redeem free songs, apps, books, TV episodes, and more every day until Jan. 6.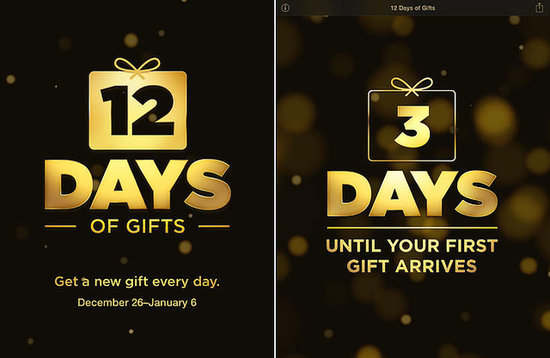 When midnight strikes, users will be able to view and download their gift from the 12 Days of Gifts app. Certain countries and regions are not eligible for the offer, and the country associated with the billing address of your Apple ID must match the country you select in the app.
Once your iTunes gift is available, tap View Gift, then select Free. You'll find the download in your iTunes or iBooks library on the desktop or Music and Videos app on your iOS mobile device. Make sure you have enough space to download the media to your phone by deleting unnecessary files.